power flush
CERTIFIED POWER FLUSH SPECIALIST
---
WINTER SPECIAL POWER FLUSH FROM £299 WITH 5 YEAR GUARANTEE
---
THE PRICE IS BASED ON A 5 RADIATOR COMBI SYSTEM ,WITH A £20 CHARGE PER RADIATOR. WE OFFER A 5 YEAR GUARANTEE AS STANDARD AND A 10 YEAR GUARANTEE WITH THE FIT AND SUPPLY OF A MAGNETIC FILTER OR ANOTHER £100 IF YOU ALREADY HAVE ONE
---
Cleaning in accordance with Benchmark BS7593 and Part L.
What is power flushing?
---
Power flushing is when the central heating system is cleansed by specialist power flushing equipment and chemicals to remove scale, sludge and iron oxide to improve system circulation and efficiency:
Symptoms if you need a power flush…
---
Heating circulation problems
Pump failure
Boiler noise
System is slow to heat up
Cold spots on radiators
Partially blocked pipes
---
The benefits of power flush
---
Increased boiler and radiator lifespan
Improved system efficiency by 40%
Reduced gas bills
Equal distribution of heat throughout the heating system
Quicker heat up times
Hotter radiators
before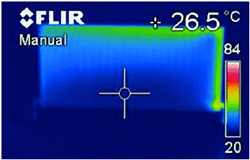 after
Our specialist team use a low pressure, system friendly, dedicated modern customised power-flushing pump. This pump is fitted with an instantaneous flow reversal, a specialist twin gauss magnetic power-flushing filter and a combi heater. The twin gauss magnetic filter reduces recirculation of iron oxide (rust) through the boiler reducing water consumption and flush time by two hours.
The combi heater enhances the performance of the highest quality chemicals we use suited to your individual system requirements making sure that the stubborn adhesive deposits are completely removed and reducing flush time by a further two hours.
We balance the radiators to ensure optimal system efficiency, and we are able to show you the results with our thermal imaging camera.
It is common practice for our engineers as a precaution to lay down dust sheets and wear shoe covers.
We need to survey commercial systems, before we can quote
Get a quote for a power flush